JEWELRY
FOR THE HOME
When it comes to telling the Caracole story, it all starts with inspiration. For the last eleven-plus years, we've followed ours by crafting home furnishings rich with design and innovation. Just like fine jewelry, each piece of furniture we introduce has been designed for its ability to delight the eye, beautify its surroundings, and satisfy for a lifetime.
Since the beginning, our objective has always been to design statement pieces that look brilliant in every room in the house. They're designed to be mixed and matched like your favorite wardrobe staples, but at the end of the day, every piece is unique in its own way and infinitely adaptable enabling you the freedom to display your own personal style.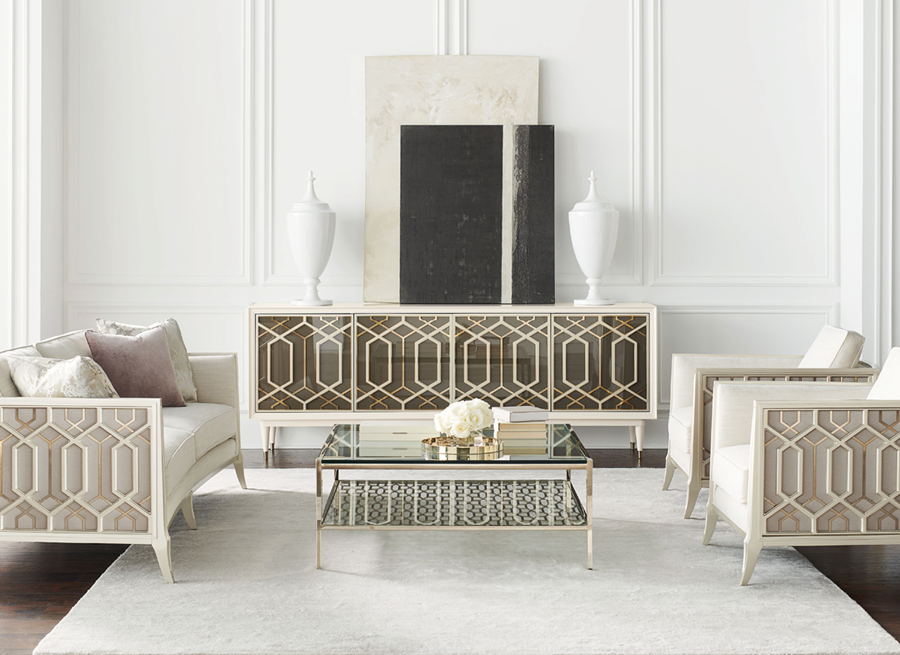 "Like jewelry accenting a little black dress, warm gold metallics accentuate the depth and sophistication of dark spaces."
MAKE A
STATEMENT
Creating an elegant statement in your home starts with the use of classic shapes and a neutral color palette along with impeccable attention to small details. From seating areas with panache to bedrooms that sparkle, Caracole borrows from classic silhouettes that have been updated with new shapes and finishes, as well as jewelry-like details to leave a lasting impression.
From fresh interpretations of the classics to modern designs that supersede trend, our high-fashion furnishings make it easy to express your personal style. Graceful curves and clean lines are brought to life by the finest materials from around the world while exquisite fabrics and finishes make a one-of-a-kind statement. Our product line is full of personality pieces that help you stay organized and add that little piece of jewelry that every space needs!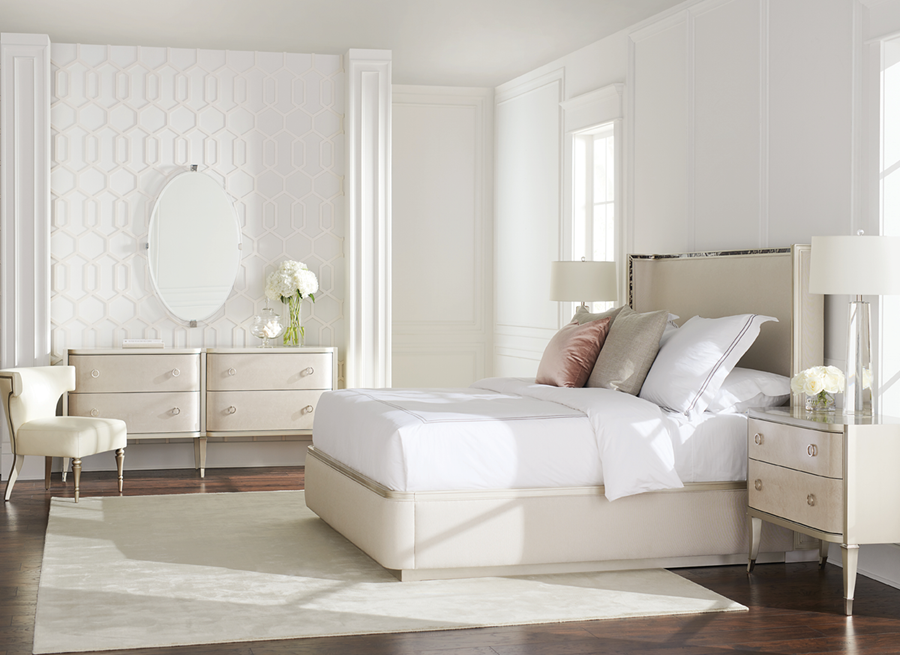 "Just as jewelry enhances an outfit, every well-designed living space needs inspiring pieces that add drama and character."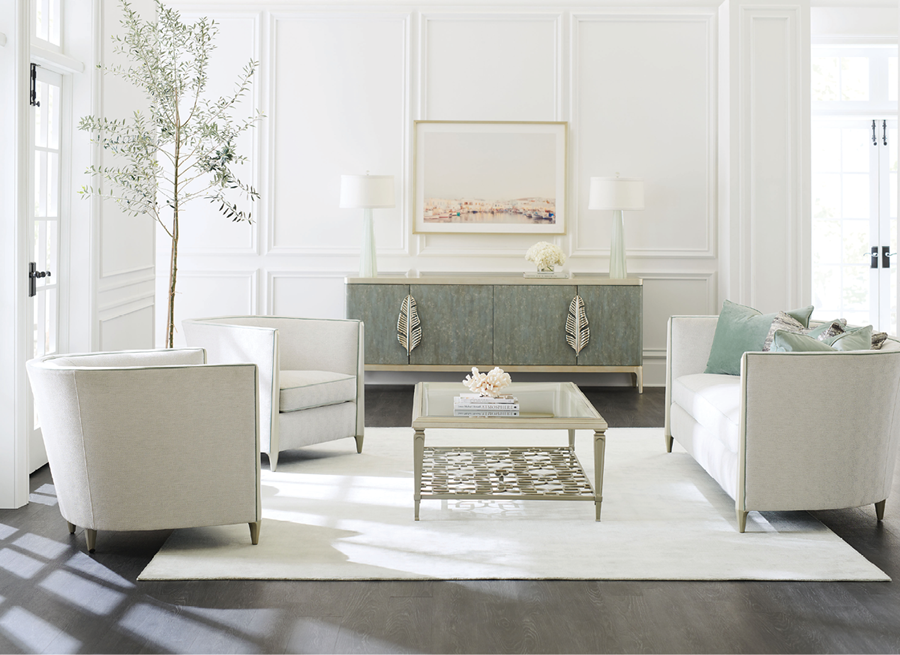 WHO DOESN'T LOVE CUSTOM?
The glint of metallic. The smooth sheen of stone. The captivating slope of a curve. It's the smallest detail that defines a piece of fine furniture. Our exclusive knobs, pulls, and handles are created to conform perfectly to your hand and create a sensory experience. Like stunning jewels, each custom design that adorns one of our doors or drawers lends an element of distinction and a finishing touch to the room.
"The shimmer of fourteen carats, the sumptuousness of platinum, the glimmer of Swarovski crystals and the creamy luster of pearls are today's most glamorous must-have looks."
Looking back on our past has given us renewed inspiration for the future. You can expect even more industry-leading style and craftsmanship. Watch for more designs that fearlessly combine old and new while reinventing the classics. Look for more exciting style directions that push the limits of luxury and refinement. Know that our unforgettable home furnishings will continue to embody uncompromising beauty that enhances the experience of furnishing your home into buying jewelry for your home!
VIEW JEWELRY FOR THE HOME ON PINTEREST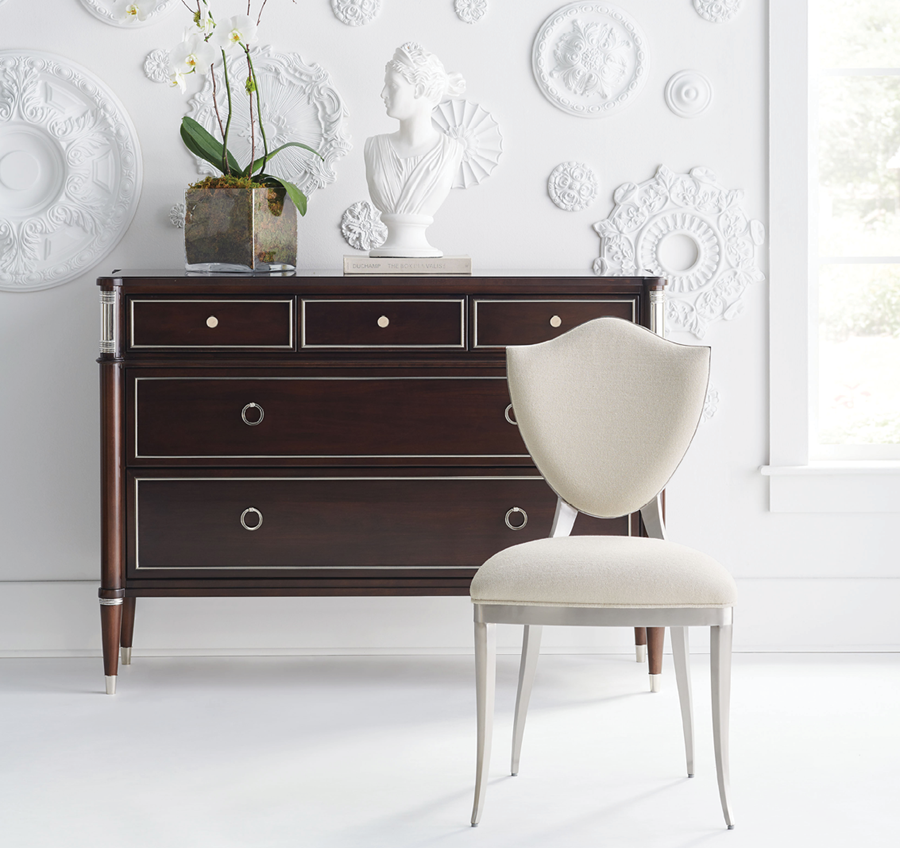 ---
MORE STORIES...
---