SIMPLY
MODERN
Caracole Modern furnishings reflect simplicity in design, finish, and fabric, suitable for contemporary lifestyles. And while simplicity may represent a less complicated way of life, it's also a timeless tenet of home fashion. VIEW SIMPLY MODERN ON PINTEREST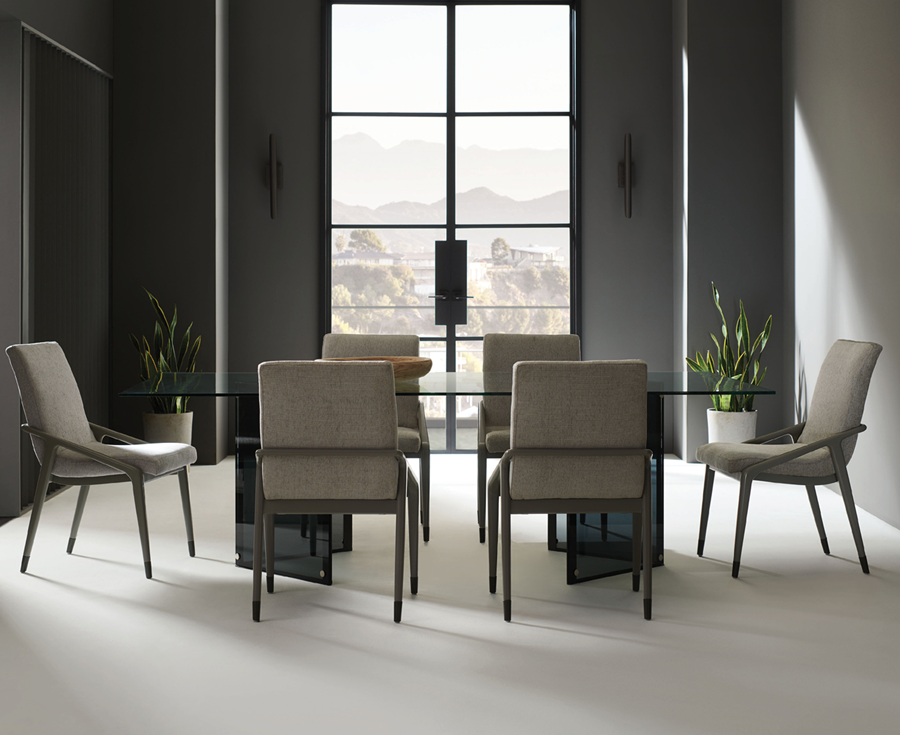 For true design inspiration, the worlds of art, architecture and geometry never disappoint.
ARTISAN REMIX
Offering a fresh complement to the success of the Modern Artisan aesthetic, this new collection is infused with vitality and perfectly suited to today's active lifestyles. Expression is personal. Just as the watch, shoes, handbag, and clothing you choose reveals your viewpoint, so does Modern Remix. It's a bold, statement-making collection that blurs the lines between on-trend and timeless and can be dressed up or down. Drawing inspiration from visuals like the way the ocean ripples along the shoreline or how a downtown skyline comes alive after dark, these distinctive pieces convey a modern casual vibe. Clean lines and restrained profiles are heightened with exquisite veneers and finishes punctuated by handsome hardware. With a youthful countenance elevated with sophistication, this iconic look takes the idea of expressing yourself to the max.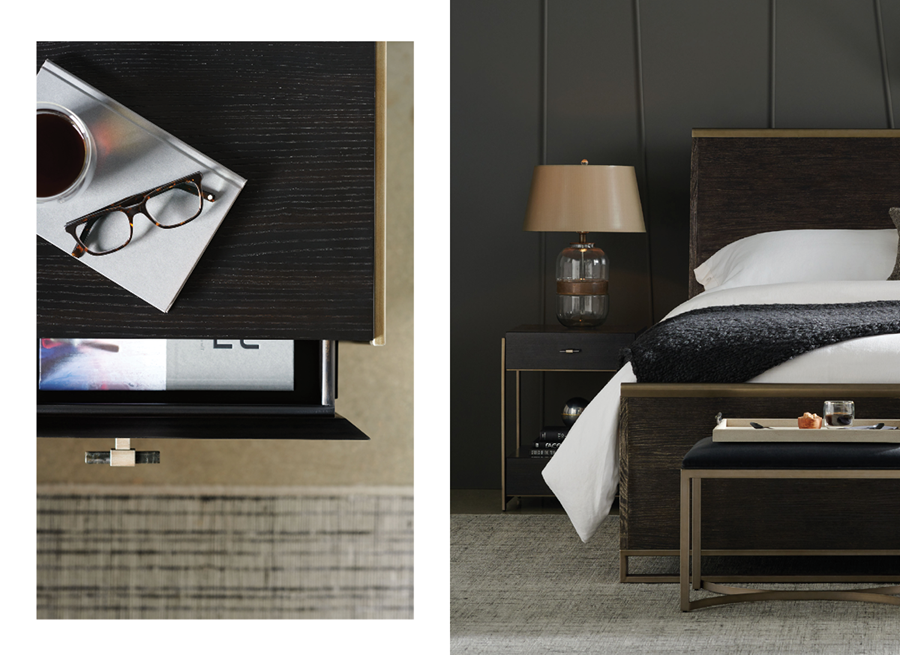 An inspired mix of materials creates a modern attitude that feels at-home anywhere.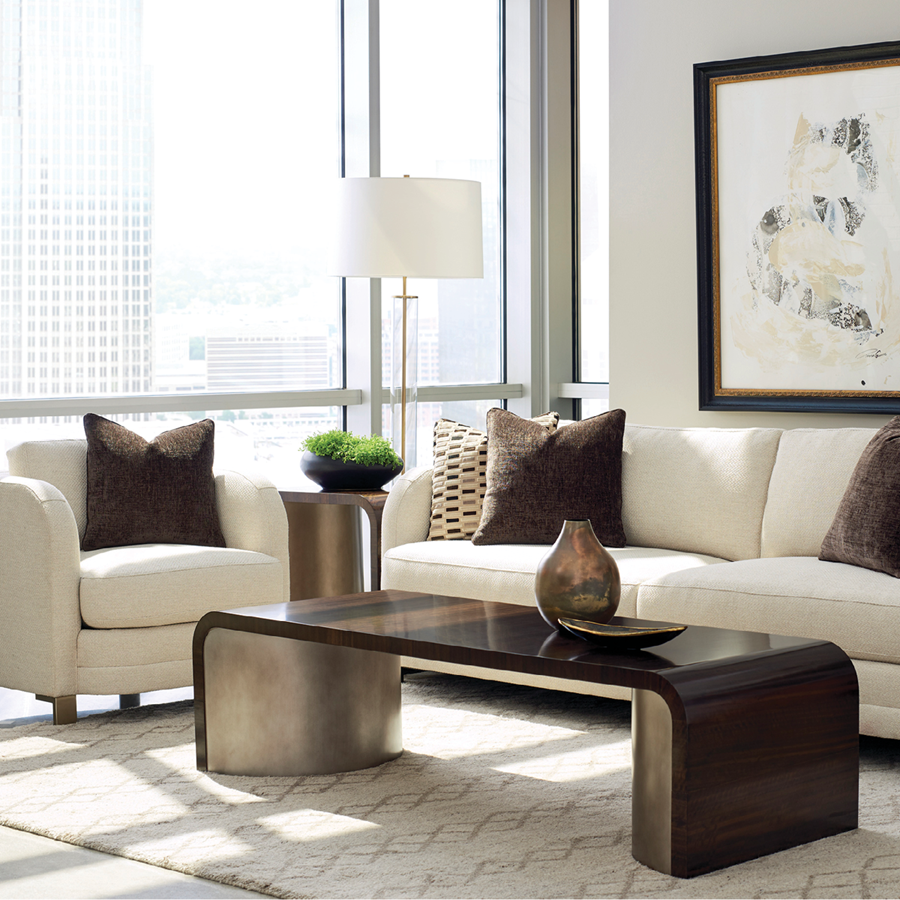 STREAMLINED
STYLING
A synthesis of modern luxury and streamlined styling, Modern Streamline makes a statement like no other. Exquisitely designed to capture the beauty of 1940s American industrial design sensibility, it's a look that's both beautiful and handsome, bold, and elegant.
Infinitely memorable and rich with inspiration, this collection is the ultimate illustration of form meets function. Its clean, contemporary silhouettes define a space and shape its character with straightforward sophistication. Equally suited for entertaining a crowd or a relaxing night in, Modern Streamline is the foundation for a modern-day cosmopolitan retreat.
Functional art tells a story and infuses a space with personality.
ARTFUL LIVING
The art of storytelling is mirrored in the latest introductions to the Modern portfolio. While the underlying message is simple, its brilliance is revealed in every detail. Drawing inspiration from art and architecture, each new design expresses its own unique point of view brought to life in distinctive hand-selected materials. These intriguing forms are fearless in their bold simplicity, yet also feel innately welcoming. Influenced by artist Mondrian, many pieces reference his iconic use of color-blocking squares and rectangles separated by a single bold black line. Geometric forms prevail in the handsome upholstered introductions as well, with long, crisp lines, and structured shapes making the backdrop for modern comfort. The ultimate expression of originality, the new Modern is a high-style collection that sets the framework for artful living.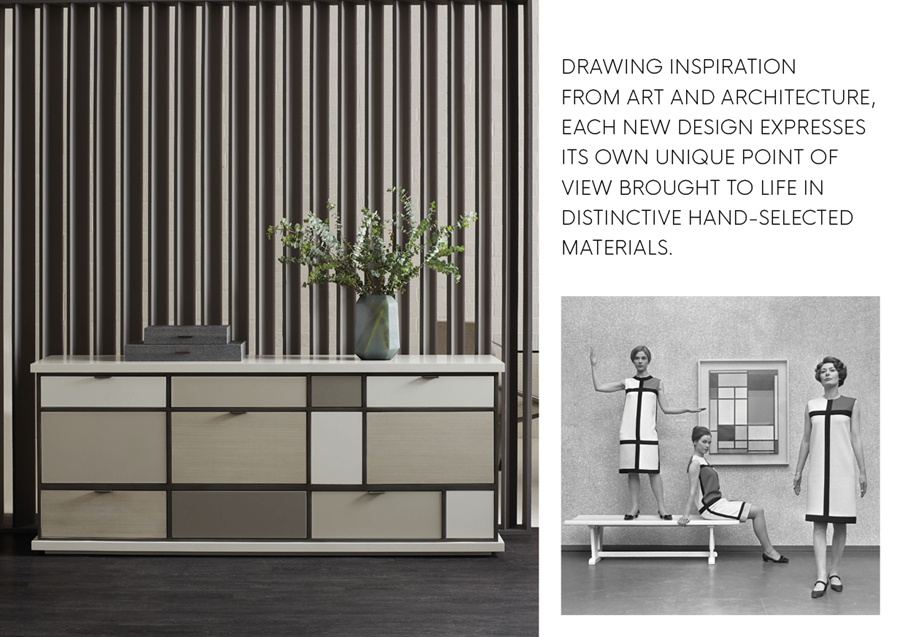 ---
MORE STORIES...
---